Dr Eardley Rozario

(Dental Surgeon & Cosmetic Medical Doctor) BDSc(WA) BMed (Newcastle)
I was inspired to become a dentist as I grew up in a remote region of Western Australia, with no access to fluoride in the water supply or to regular dental care or other medical services.
Dr Rozario
Education and Professional Development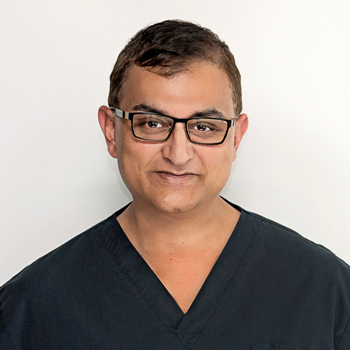 To prepare for his career as a dental surgeon and cosmetic medical doctor, Dr Eardley Rozario earned a Bachelor of Dental Science (University of Western Australia) in 1989. He also earned a Bachelor of Medicine (University of Newcastle, NSW) in 2002.
So he can stay abreast of the latest in the dental field, Dr Eardley Rozario takes continuing education courses regularly. He does a combination of online courses, hands-on training courses, attendance at seminars, and "Grand Rounds." Dr Eardley Rozario also teaches and provides small group seminars for individual practices and does one-on-one hands-on surgical training for interested dentists.
Possessing Extensive Surgical Experience
As a medical doctor, Dr Eardley Rozario has considerable surgical experience and runs treatment days for general anaesthetic in coordination with the hospital and the anaesthetist. A major asset to our team, Dr Eardley Rozario assists nervous patients, those with special needs, children requiring general anaesthesia and any patients who require complex surgical dental work or wisdom teeth removal. You can be confident that, under Dr Eardley Rozario's care, you are in highly capable hands.
Finding Fulfillment Helping Patients
For Dr Eardley Rozario one of the most fulfilling aspects of being a dental surgeon and cosmetic medical doctor is achieving good treatment outcomes and reasonable/appropriate expectations of patients in a safe and controlled way.
In His Spare Time
When he's not crafting beautiful smiles for his patients, Dr Eardley Rozario loves spending as much time as he can with his wife, two daughters and three dogs. When time permits he also likes to play a bit of "Army Golf."
He also loves to cook and eat cuisine from all over the world. "I will try anything within reason!"
Book an Appointment
Contact us today to schedule an appointment with Dr Eardley Rozario!
CONTACT US
* Any surgical or invasive procedure carries risks. Before proceeding, you should seek a second opinion from an appropriately qualified health practitioner.

Dr Eardley Rozario | (07) 5523 2288