Children's Dental Care at TC Smiles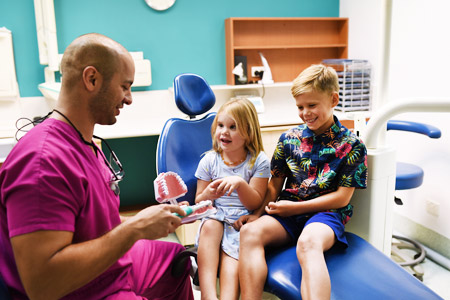 At TC Smiles, our team is well-versed in treating children of all ages. We provide a broad range of services within children's dentistry. With our experienced staff, you can rest assured that your child will have a pleasant and enjoyable experience with us.
A Good Experience From the Start
We can cater to your child or teen, even if they have special needs. From the time their first teeth erupt, decay and other dental complications can arise. Their first visit should be no later than their first birthday. They can begin to get familiar with our environment and sitting in the dental chair. As they get older, we can teach them about proper oral hygiene habits.
A first dental appointment can be a nerve-racking experience for both the parent and the child. Our dental team is well-equipped to help you both relax. Our children's clinic room is a dedicated area created with them in mind. We want them to have fun and look forward to
A Healthy Smile For Life
There are several advantages to starting your child's dental care early in life. They establish the right hygiene habits. Furthermore, we can make sure any concerns are identified and treated straightaway. We will ensure that your child receives the highest quality of care and respect in a safe environment. Just like adults, children can benefit from twice-yearly checkups.
The Key Teeth Milestones For Children
You might be wondering when you can expect your child's teeth to erupt. Though there is no set times, below, you'll find a general guide in when their teeth will likely start to show.
Baby Teeth
6-10 months: Upper central incisors
8-13 months: Lower central incisors
8-16 months: Lateral incisors
13-19 months: First molars
16-23 months: Canine teeth
25-33 months: Second molars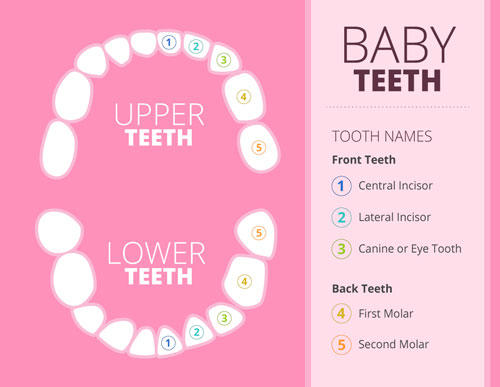 Adult Teeth
6-7 years: First molars
6-8 years: Central incisors
7-8 years: Lateral incisors
9-13 years: Canine teeth
9-13 years: Premolars
11-13 years: Second molars
17-21 years: Wisdom teeth (if any)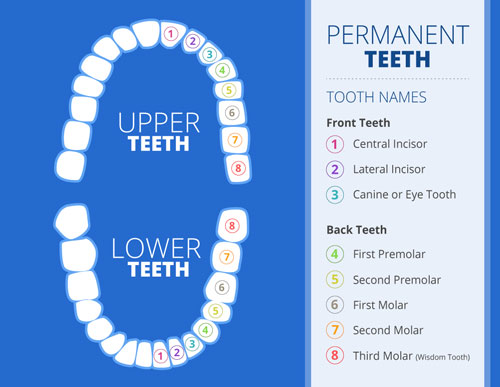 Managing Your Baby's Teething
When your baby's teeth erupt, it can be a distressful time for the child and their parents. On average, it takes about eight days total. If you notice a bluish lump around the tooth, it is an eruption cyst and doesn't require treatment.
To manage their teething, you can clean and massage their gum with a finger or wet cloth. A teething ring can provide comfort with a gentle pressure. If necessary, you can resort to children's painkillers.
Why Look After Baby Teeth?
You might think that the baby teeth aren't important since they're replaced by permanent teeth later in life. This idea couldn't be further from the truth. With healthy, strong baby teeth, your child has the best chance at developing the correct speech and chewing patterns. They also function as placeholders for their future teeth, ensuring adult ones erupt in proper position.
What You Can Do at Home
You can play a role in making sure that your child develops the right oral healthcare routine at home, such as:
Assisting them with brushing
Using children's toothpaste up to age 6
Switching to an adult toothpaste at age 6
Using a pea-sized amount of toothpaste
Minimising sugar intake
Making 6-month maintenance visits with us
Enjoy Your Smile Now And Pay For It Later
AfterPay allows you to enjoy your smile now and pay for it in four equal fortnightly payments. With AfterPay you can spread out the cost of your treatment with no added interest, and no additional fees.* Sign-up to AfterPay, book an appointment at our Tweed Heads South practice, and scan your AfterPay barcode at reception – it's as easy as that. Everyone deserves a healthy smile and with AfterPay there's even more reason to show it off.
Free Children's Dental Care
All children deserve easy, affordable access to dental care. We provide gap-free checkups for kids who have health fund cover. Otherwise, the Child Dental Benefits Schedule covers eligible children up to $1000 in basic services every two years. These services include examinations, X-rays, cleanings, fissure sealants, fillings, extractions and root canals. Check if your child is eligible with the Department of Human Services. Contact us today to book a Saturday visit for children's dentistry Tweed Heads South!
CONTACT US
* Any surgical or invasive procedure carries risks. Before proceeding, you should seek a second opinion from an appropriately qualified health practitioner.

Children's Dentist  Tweed Heads South, Banora Point, Tweed Shire NSW | (07) 5523 2288