General and Preventative Dentistry at TC Smiles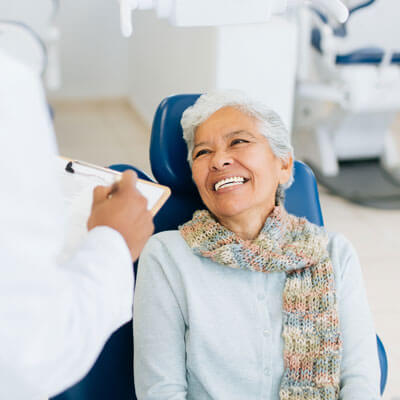 The best way to maintain your oral health doesn't actually involve dental treatment! In fact, it's completely in your control. One of our mottos is, "prevention is always better than cure."
With the proper education and motivation, you can avoid the majority of dental problems. By taking ownership of your oral health, you're taking the first step. At TC Smiles, we'll work with you to make sure that you know what to do to keep your teeth and gums in great shape.
What is Oral Health?
According to the World Health Organisation, oral health is:
"A state of being free from mouth and facial pain, oral and throat cancer, oral infection and sores, periodontal (gum) disease, tooth decay, tooth loss, and other diseases and disorders that limit an individual's capacity in biting, chewing, smiling, speaking, and psychosocial wellbeing."
Your oral health goes well beyond just showing off teeth that are bright. By having checkups every six months, we can catch any potential issues before they become more serious. We can also discuss your home hygiene habits with you.
Your Hygiene Routines
The gold standard for oral health is to brush your teeth twice a day with the right electric toothbrush. Flossing should be done daily. With these measures, plaque is removed and you lessen the risk of having gum disease or tooth decay. We can speak to you more in-depth about what is best for your particular needs. We'll also detail the brushing and flossing techniques that work best.
The Right Dietary Choices
Another aspect of what you do at home that affects the health of your mouth is your diet. You should minimise your intake of foods and drinks that contain sugar or acid.
Sugar is hidden in foods that you wouldn't normally expect. Be sure to read your labels, do your research and be mindful of what you and your family are eating.
Healthy Lifestyle Choices
You deserve to live life to the fullest. At the same time, you must be careful about your vices. Smoking and alcohol are two common habits. Both will significantly raise your risk of having oral cancer and gum disease. Though we'll check for this at your regular examinations, it's important to decrease your the risks by making the right lifestyle choices.
The Solutions You Need
Did you know that there is an easy way to prevent decay with an option called a fissure sealant? It's applied to the back teeth that have deep grooves where bacteria collect. We recommend them often for children when they have all their adult teeth.
There are other services that may be suitable for you when tooth decay sets in. We provide tooth-coloured fillings that are aesthetically pleasing, strong and contain no mercury. We'll give you any local anaesthesia you need, remove the decay, then bond the filling to your tooth.
Enjoy Your Smile Now And Pay For It Later
AfterPay allows you to enjoy your smile now and pay for it in four equal fortnightly payments. With AfterPay you can spread out the cost of your treatment with no added interest, and no additional fees.* Sign-up to AfterPay, book an appointment at our Tweed Heads South practice, and scan your AfterPay barcode at reception – it's as easy as that. Everyone deserves a healthy smile and with AfterPay there's even more reason to show it off.
Protect Your Smile
Are you due for an appointment? Contact us today to schedule a time for general and preventative dentistry Tweed Heads South! We have same-day and Saturday hours available.
CONTACT US

General Dentist Tweed Heads South, Banora Point, Tweed Shire NSW | (07) 5523 2288