Cosmetic Dentistry at TC Smiles
You deserve to have a gorgeous smile. At TC Smiles, we can help you achieve a look that you're proud to show off. Our dentists are extensively trained and can tailor a treatment plan to you. With the latest technology in modern dentistry, we'll provide you with a strong, healthy smile.
Love Your Smile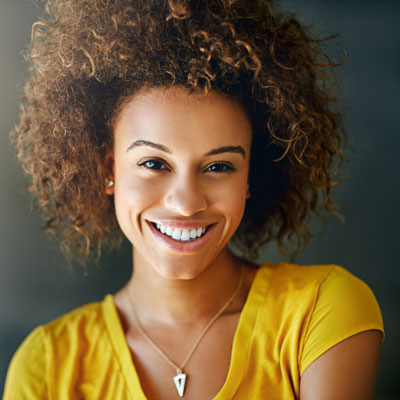 When you choose to have cosmetic dentistry, you may benefit most from a combination of our solutions. At your initial consultation, we'll have a conversation that identifies your wants and needs. We'll then take diagnostics such as photographs, X-rays and impressions to plan your new smile. This crucial stage ensures that you get a fantastic result. At your next appointment, we'll go over your treatment options and get started.
Below, you can read more about some of the cosmetic solutions we offer.
Teeth Whitening: When someone has a bright smile, you take notice. A simple way to rejuvenate your appearance is through teeth whitening. We provide two techniques: an in-chair whitening process or a convenient take-home kit. The Philips Zoom system is world-renowned and known for the incredible results it gives. With this system, you can whiten your teeth up to eight shades in a single hourlong appointment.
Dental Crowns: Damaged teeth can leave you unable to eat and speak or make you feel less confident. A dental crown will restore the stability of your tooth. This restoration is like a cap that goes over the compromised tooth to give it greater strength. Made from strong porcelain, it will last for years with the proper care.
Dental Bridges: If you are missing one tooth or multiple teeth, you've probably considered replacing them. A dental bridge is a cost-effective solution. It's made up of a row of crowns. The end crowns are attached onto the teeth that neighbour the gap. The remaining crowns are suspended into the open space where you have a missing tooth. A bridge is long-lasting, and we'll teach you how to carefully clean under and around your bridge.
Veneers: You can gain a perfectly aligned look with dental veneers. A veneer resembles a fake fingernail. It's affixed to the front of your existing teeth. When applied, it can mask a broad range of imperfections and give you that Hollywood smile. Veneers can be made from porcelain or composite depending on what you'd like to achieve and what your budget is.
Orthodontics: Want to have a straighter smile but don't like the idea of metal braces? We provide Invisalign®, ClearCorrect and Quick Straight Teeth. These orthodontic systems are virtually invisible so that nobody knows you're wearing them. The comfortable aligners are custom-created for you. We'll see you at regular intervals to make sure that you're progressing well in your treatment.
White Fillings: If you have tooth decay or an old, silver filling, you can have it addressed with a tooth-coloured filling. These fillings will blend in with the rest of your teeth so that nobody knows it's there. Any decay can be identified at your regular examinations with our dentists. If we notice that you have a silver filling that needs replacement, we'll discuss it with you so that you can decide if you'd like to proceed.
Enjoy Your Smile Now And Pay For It Later
AfterPay allows you to enjoy your smile now and pay for it in four equal fortnightly payments. With AfterPay you can spread out the cost of your treatment with no added interest, and no additional fees.* Sign-up to AfterPay, book an appointment at our Tweed Heads South practice, and scan your AfterPay barcode at reception – it's as easy as that. Everyone deserves a healthy smile and with AfterPay there's even more reason to show it off.
Frequently Asked Questions
Are cosmetic dental treatments necessary?
The only person who can answer that question is you. Everyone should feel happy and proud of their smile. If you're not, then speak to us about the options available to help you get the smile you deserve. We're happy to help you decide what treatments may help enhance your smile.
The most common options are Invisalign®, teeth whitening, composite edge bonding, veneers, and crowns.
The cost varies according to the procedure you're considering. We have payment plans to break down the cost and make it more affordable. Remember, you're investing in yourself!
Each option is different, so it depends on what you want done.
Get Started Today
If you're not sure where to begin, the first step is to contact the TC Smiles team. You can reach us by email or phone today, and we'll get you booked in for a cosmetic dentistry Tweed Heads South consultation! Same-day visits are available and we are open late.
CONTACT US
* Any surgical or invasive procedure carries risks. Before proceeding, you should seek a second opinion from an appropriately qualified health practitioner.

Cosmetic Dentist Tweed Heads South, Banora Point, Tweed Shire | (07) 5523 2288