Dental Veneers at TC Smiles
Are you seeking an efficient way to improve your appearance?
At TC Smiles, we feature a full suite of dental solutions. No matter what your particular goals may be, we're here to help you decide how to meet them. We provide veneers in porcelain or composite materials. A veneer is a thin shell that is bonded to your teeth, improving your smile and giving the tooth strength and resilience.
Are Veneers Right For You?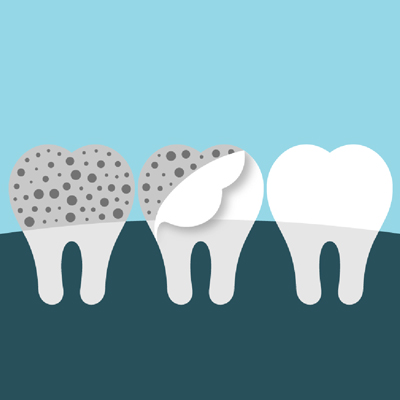 There are many situations in which veneers are appropriate:
Crowded teeth
Gapped teeth
Misaligned teeth
Misshapen teeth
Teeth with worn-down enamel
Worn, chipped teeth
If your teeth have been weakened with the enamel worn away, veneers can restore their function and appearance. They're a more conservative option than other treatments such as a crown, which can require more of your existing tooth structure to be removed.
What to Expect When Getting Veneers
Your first step in getting veneers is to have a consultation with one of our dentists. We'll talk about your smile goals. Then, we can determine the most appropriate shape and colour of your veneers. There may be other treatments that are appropriate to have done first, such as teeth whitening.
When you choose to have porcelain veneers, we will remove a slight amount of enamel from the teeth that they'll be applied to. We take a conservative approach and preserve as much of the tooth as possible. Then, we can take impressions of your teeth. Our laboratory will use these impressions to custom-create your veneers. Meanwhile, you'll receive a temporary set to wear.
When your veneers are completed, we'll see you for another appointment to have them fitted. They're bonded to your teeth with strong materials. We'll make sure that both you and your dentist are satisfied with your results.
Keeping Your Veneers in Great Shape
It's important that you refrain from opening packages with your teeth or chewing on hard substances such as ice. Your veneers should be brushed and flossed around just like your natural teeth. At your biyearly appointments with us, we'll check them thoroughly to make sure that they remain healthy.
Frequently Asked Questions
Veneers are a great option to improve the aesthetics of your smile. They're one of the more conservative options, as you don't have to remove much of the tooth to get the result you want. Veneers are a highly technical procedure and must be planned well.
Who would veneers be suitable for?
Everyone is suitable for them; the decision depends on the clinical presentation and your wants and needs. If the teeth are naturally weak and discoloured, veneers are a great choice. We don't recommend them for healthy teeth.
Enjoy Your Smile Now And Pay For It Later
AfterPay allows you to enjoy your smile now and pay for it in four equal fortnightly payments. With AfterPay you can spread out the cost of your treatment with no added interest, and no additional fees.* Sign-up to AfterPay, book an appointment at our Tweed Heads South practice, and scan your AfterPay barcode at reception – it's as easy as that. Everyone deserves a healthy smile and with AfterPay there's even more reason to show it off.
Schedule Your Consultation Today
Would you like to find out if veneers Tweed Heads South are right for you? Contact TC Smiles today to book a same-day appointment! We are a preferred provider for Bupa, HCF, TUA and NIB. Your rebate can be claimed on the spot with our HICAPS machine.
CONTACT US
* Any surgical or invasive procedure carries risks. Before proceeding, you should seek a second opinion from an appropriately qualified health practitioner.

Dental Veneers Tweed Heads South, Banora Point, Tweed Shire NSW | (07) 5523 2288