Teeth Whitening at TC Smiles
Have you considered lightening the shade of your teeth?
Over time, stain molecules attach to teeth, leaving discolouration. At TC Smiles, our teeth whitening procedures will uncover the natural, whiter colour of your teeth. We'll be happy to discuss your options for whitening, which include in-chair and take-home, and determine which is best to get the results you want.
Why Whiten Your Teeth?
There are many benefits to having teeth whitening done: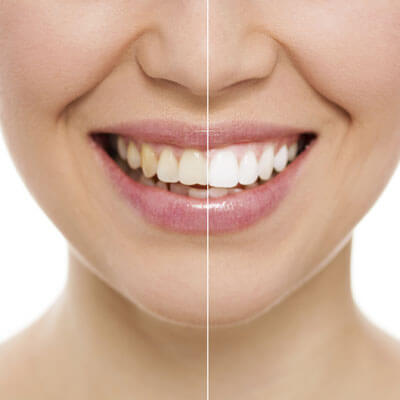 Improved aesthetics. This cost-effective, simple option will transform the way you look, not just your smile.
Boosted confidence. When you know you have a gorgeous smile, your self-esteem will skyrocket. You'll perceive your appearance differently and carry yourself with greater confidence.
No risks. Since only the outermost layer of the enamel is whitened, there are no side effects to whitening your teeth. We can even resolve common issues such as temporary sensitivity.
Easy to maintain. You can decide to touch up your whitening at regular intervals. We will advise you on how often is right for you.
Fighting the ageing process. With no needles required, you can take years off of your appearance. Whiter teeth are more youthful and having a beautiful smile will make you want to show it off more, which is a trait of youth.
Better oral care. With a smile you are proud of, you'll want to look after your teeth. Many people even quit smoking after having their teeth whitened.
A natural look. You can choose the gleaming Hollywood smile or to have slightly less whitening power, depending on what you feel is right for you.
What to Expect
The first step is to have a consultation with our experienced clinicians. They'll tell you what they find after an examination and custom-create a treatment plan to meet your goals. We use the most advanced teeth whitening system available: Philips Zoom.
You can choose to have your whitening done in-chair during a single appointment. We also provide take-home kits if you would prefer to whiten your teeth at night.
The Benefits of In-Chair Whitening
We'll cover our gums and soft tissues of the mouth, protecting them from a whitening gel. The gel is applied to the teeth, and an LED light will accelerate the process. You can watch television the entire time, relaxing and enjoying yourself. All regulatory bodies have deemed these products as safe with minimal side effects. When your whitening is completed, you'll receive custom trays and a take-home gel to top up your results as you like.
The At-home Whitening Option
Our take-home kit won't give as dramatic of results as our in-chair whitening, but it puts the procedure in your control and is cost-effective. You can complete it from the comfort of home, wearing the trays overnight while you sleep. You'll receive a kit and enough whitening gel for 18 applications. You will also receive desensitising toothpaste to minimise the chances of tooth sensitivity afterwards.
Enjoy Your Smile Now And Pay For It Later
AfterPay allows you to enjoy your smile now and pay for it in four equal fortnightly payments. With AfterPay you can spread out the cost of your treatment with no added interest, and no additional fees.* Sign-up to AfterPay, book an appointment at our Tweed Heads South practice, and scan your AfterPay barcode at reception – it's as easy as that. Everyone deserves a healthy smile and with AfterPay there's even more reason to show it off.
Frequently Asked Questions
How well can I expect it to work?
It varies by case, depending on your enamel, but teeth whitening has a very high clinical success rate. It's extremely rare for it not to work.
The results will largely depend on the quality of your enamel. Some patients find their teeth whiten several shades, while others may only brighten a couple. Either way, you're sure to notice a stunning improvement.
No, the whitening solution only works on the enamel layer, the outer layer of the tooth. It's quite common to experience sensitivity during the whitening procedure, and maybe for a couple of days after you finish. There should be no permanent sensitivity, and more importantly, there should be no damage to the structural integrity of the teeth. Obviously, as your dentist, we'll make sure your mouth is fit and ready for whitening.
How are dentist made whitening kits different from over the counter kits bought in shops?
Over the counter kits are one size fits all, so there's no guarantee the whitening gel is actually sitting on the teeth. Our custom fitting trays ensure the gel is where it needs to be to get the results you expect. Also, our kits have a much higher percentage of active ingredients than OTC, and are approved by the TGA.
Teeth whitening may last up to 12 months, though it all depends on how well patients practice proper oral health habits.
Brighten Your Smile
Would you love to show off a refreshed and dazzling look? Find out if teeth whitening Tweed Heads South is right for you. Contact TC Smiles today! We provide payment plans with 0% financing.
CONTACT US

Teeth Whitening Tweed Heads South, Banora Point, Tweed Shire NSW | (07) 5523 2288