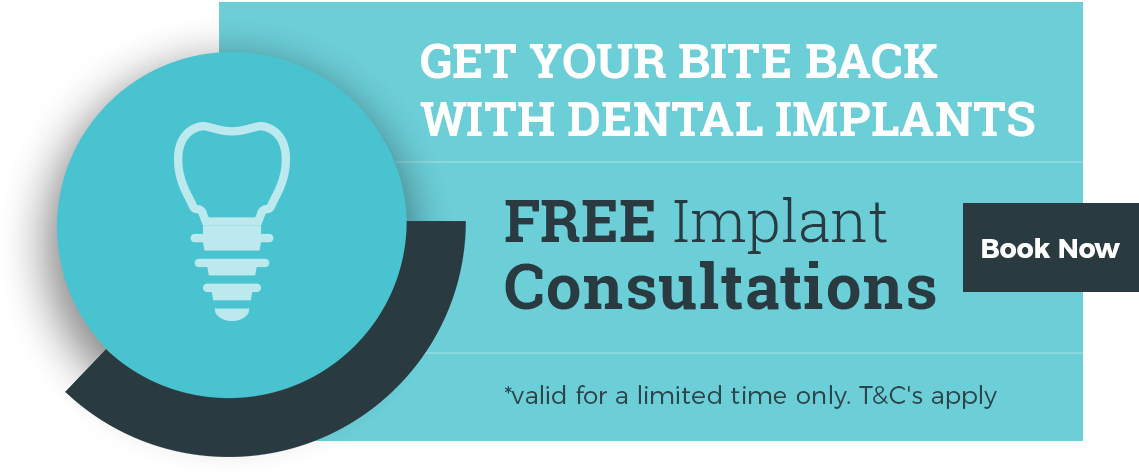 Dental Implants at TC Smiles
Losing teeth can be difficult and traumatic. With today's modern dentistry solutions, dental implants offer the next best thing to existing, healthy teeth. A dental implant involves a titanium screw that's implanted into your jaw bone. A denture, crown, or bridge can then be affixed to the implant. Our detailed planning, skilled treatment and local anaesthesia mean we'll keep your procedure efficient and comfortable for you.
The Many Advantages of Choosing Dental Implants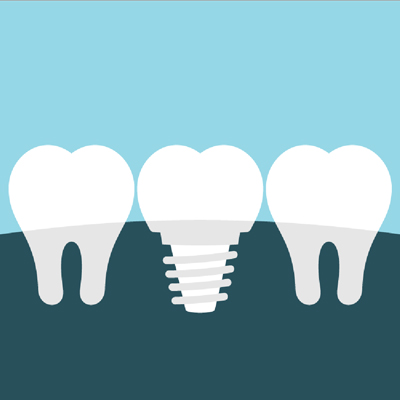 There are other dental solutions to replace missing teeth, such as a bridge or denture. Dental implants, however, offer many advantages, such as:
The look and feel of a natural tooth
A permanent, fixed option
A high success rate
No compromising the neighbouring teeth
Easy to maintain just like regular teeth
Why You Need to Replace Missing Teeth
If you have lost a tooth, you might be unable to speak or eat the foods you want. There is another problem, however, with leaving gaps in your smile. The rest of your teeth will begin to shift to cover the gap, leaving your smile compromised, changing your bite and transforming your entire facial profile.
A dental implant is aesthetically pleasing and functions just like a regular tooth. They'll prevent the shifting of adjacent teeth and can improve the fit and security of your dentures.
Your Initial Consultation
Our skilled dentists will look at the implant site, taking impressions, X-rays and 3D scans. From this information, we can determine if dental implants are right for you. If so, we will continue with the implant procedure.
The Implant Placement: The surgery to place the implant is usually straightforward. You'll be under local anaesthetic. Our implants are the highest quality that is used most on the market today, MIS.
The Healing Period: We can wait for up to six months for your implant to integrate into the jawbone. Once this occurs, we can fabricate your crown, bridge or denture to attach it to the implant.
What to Expect
There are three separate stages to getting an implant: your first consultation, the surgical implantation of the implant and the placement of your final restoration on the implant.
Frequently Asked Questions
Not only can missing teeth leave you feeling too self-conscious to smile, but your oral health also can be negatively impacted. Why? When you have a gap in your smile, existing teeth can shift, which may result in tooth loss. You also could experience bone loss as the gum tissue degenerates over time. When deterioration occurs, it can change your facial profile and make you appear older than you are. Chewing also can become challenging.
Dental implants can restore function and aesethetics, allowing you to eat your favourite foods and speak easily and comfortably.
Who is a candidate for dental implants?
If you're in good overall health, you likely can get dental implants. You must, however, need to have sufficient gum tissue and jawbone to support dental implants. There are some health conditions, however, that may decrease their effectiveness. That's why we will ask you questions about your health history at your appointment. We want to ensure that dental implants are the most appropriate solution for your needs.
What's involved in getting a dental implant?
Following your examination in the office and the determination that dental implants are the most ideal way to achieve your smile goals, we'll take X-rays and gather all the necessary information. If we determine that you first need bone grafts or have teeth removed, we'll perform those procedures first and give you time to heal before getting started.
After the required healing period, the titanium post is placed in the jaw. We can furnish you with a temporary crown while we allow the implant to integrate with the jawbone. The next step is placing your permanent crown, bridge or denture on the implant. We'll examine the fit and appearance. If you have any questions, we'll be happy to answer them.
How do I care for my dental implants?
You can easily brush and floss your implants just as you would with your real teeth. While implants won't get cavities or require a root canal, you still must brush and floss daily to ensure that the gum surrounding the implant and your natural teeth stay healthy.
Enjoy Your Smile Now And Pay For It Later
AfterPay allows you to enjoy your smile now and pay for it in four equal fortnightly payments. With AfterPay you can spread out the cost of your treatment with no added interest, and no additional fees.* Sign-up to AfterPay, book an appointment at our Tweed Heads South practice, and scan your AfterPay barcode at reception – it's as easy as that. Everyone deserves a healthy smile and with AfterPay there's even more reason to show it off.
Love Your Smile Again
Would you like to learn whether dental implants Tweed Heads South are right for you? Contact us today to book your consultation! We have same-day appointments available.
CONTACT US
* Any surgical or invasive procedure carries risks. Before proceeding, you should seek a second opinion from an appropriately qualified health practitioner.

Dental Implants Tweed Heads South, Banora Point, Tweed Shire NSW | (07) 5523 2288