Invisalign® at TC Smiles
Exude confidence and make a dazzling first impression with treatment from Invisalign®. Invisalign is the virtually invisible way to align your teeth. More than 5.5 million people worldwide have discovered the brilliant results of this comfortable, convenient orthodontic system.
Innovative Technology
The Invisalign system is set apart by the advanced approach used to straighten teeth. With SmartForce Technology, custom-made aligners are made just or you. The clear plastic material goes over your teeth, slowly moving them into the desired position. Nobody will notice you're wearing them, and you won't have to interrupt your lifestyle. Only dentists who have trained with Invisalign are qualified to provide treatment.
---
What to Expect With Invisalign
The first step is to have a consultation with one of our dentists. They can evaluate your teeth and determine if you're a candidate for Invisalign. If so, we'll gather information such as scans of your teeth, photos and X-rays. These records will all be used to create your 3D ClinCheck treatment plan and to design your aligners. You'll also be able to see the final position of your teeth when treatment is finished.
The Invisalign laboratory will produce your aligners, then send them back to the clinic. You'll pick them up and start wearing them per your dentist's instructions. A new set of aligners will be worn about every two weeks. We'll see you at regular intervals at TC Smiles for checkups to make sure that you're progressing well with treatment.
What Could Your Smile Look Like With Straighter Teeth?
The SmileView simulation tool uses powerful technology to provide you with a computer-generated simulation of how your smile might look like with straighter teeth.
Just click to progress to the SmileView simulation tool using a mobile device or tablet.
---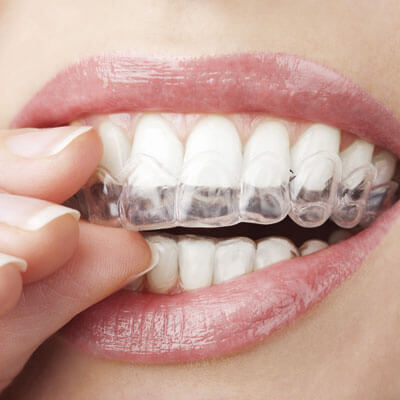 Why Choose Invisalign?
You might be wondering what advantages Invisalign can offer over other orthodontic systems. There are several aspects of treatment that our patients love:
Hardly noticeable – You don't have to advertise that you're straightening your teeth thanks to the clear, plastic aligners that can't be seen easily.
Comfortable – There are no brackets or wires involved, so your gums and the inside of your mouth won't get irritated.
Hygienic – Since you can take out your aligners to brush and floss, this orthodontic system won't jeopardise the health of your teeth and gums.
Fewer checkups – When you choose treatment with Invisalign, you'll likely need fewer visits to us than you would with traditional braces.
See your results before you begin – We'll show you each stage of the treatment so that you can see the changes that will be made before proceeding.
Enjoy Your Smile Now And Pay For It Later
AfterPay allows you to enjoy your smile now and pay for it in four equal fortnightly payments. With AfterPay you can spread out the cost of your treatment with no added interest, and no additional fees.* Sign-up to AfterPay, book an appointment at our Tweed Heads South practice, and scan your AfterPay barcode at reception – it's as easy as that. Everyone deserves a healthy smile and with AfterPay there's even more reason to show it off.
Align Your Smile and Live Your Life
Experience an orthodontic system that won't interrupt your lifestyle. Contact TC Smiles today to learn more about Invisalign Tweed Heads South! We're pleased to provide flexible payment plans.
* Any surgical or invasive procedure carries risks. Before proceeding, you should seek a second opinion from an appropriately qualified health practitioner.

Invisalign Tweed Heads South, Banora Point, Tweed Shire | (07) 5523 2288