Sedation Dentistry in Tweed Heads South
A Comfortable Way to Get the Dental Care You Need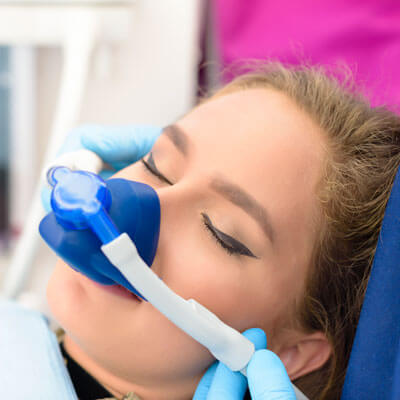 Are you one of the many people who suffer from dental anxiety or phobia? Do you dread going to the dentist and avoid dental treatments as a result? If so, sedation dentistry may be the solution you've been looking for.
What is Sedation Dentistry?
Sedation dentistry, also known as sleep dentistry, involves the use of controlled substances to help patients relax during dental procedures. There are several sedation options available, including tablets, nitrous gas, and intravenous (IV) sedation.
With IV sedation, patients are conscious but deeply relaxed, and they may not remember the procedure afterwards.
What to Expect
If you opt for IV sedation, a qualified anaesthetist will be present during the treatment to ensure your safety and comfort. Before the procedure, your treatment plan will be discussed and you will be informed of the cost. On the day of the treatment, you will be sedated in one of our clinics rooms, and the dentist will conduct all the work that was originally outlined in your treatment plan. Once the treatment is complete, you will be moved to a recovery room to relax and recover until you are picked up by a designated escort.
Benefits of Sleep Dentistry
IV sedation is an effective option for patients who suffer from dental anxiety or phobia and want to avoid remembering the procedure. It is also a healthier and more sustainable option than general anaesthesia, as the patient remains conscious throughout the procedure. IV sedation allows the dentist to perform multiple procedures at once, making it an efficient option for patients who have multiple dental issues to address. While there are additional costs associated with IV sedation, it is generally less expensive than receiving treatment in a hospital setting.
Who Is a Candidate?
IV sedation is typically recommended for patients who suffer from dental anxiety or phobia, or who want to avoid remembering the procedure. It is not typically used for routine dental cleanings, but rather for more extensive procedures. If you have been putting off dental treatment due to fear or anxiety, IV sedation may be the solution you need to get the care you need and deserve.
Don't let dental anxiety or phobia keep you from getting the treatment you need. Contact us today to learn more about sedation dentistry and how it can help you achieve optimal dental health. We look forward to helping you!

Sedation Dentistry Tweed Heads South, Banora Point, Tweed Shire NSW | (07) 5523 2288